WHY Devon and WPX just whiffed
It's time investors kept the convexity and ended the value destruction
On September 28, 2020 two large independent Upstream Oil & Gas companies, Devon and WPX announced a merger of equals. Both equities traded higher on the news; we presume the consolidation and low-growth themes drove the stock performance for the day. However, the and 11% and 16% respective one-day returns came off depressed denominators.
What is FLOW's issue with the deal?
We don't have an issue with consolidation. This combination of companies has significant promise - if the companies would decide to act in stakeholders' interests.
We have an issue with the payoff they are creating for investors, and how rational markets will keep pushing down security prices under this plan.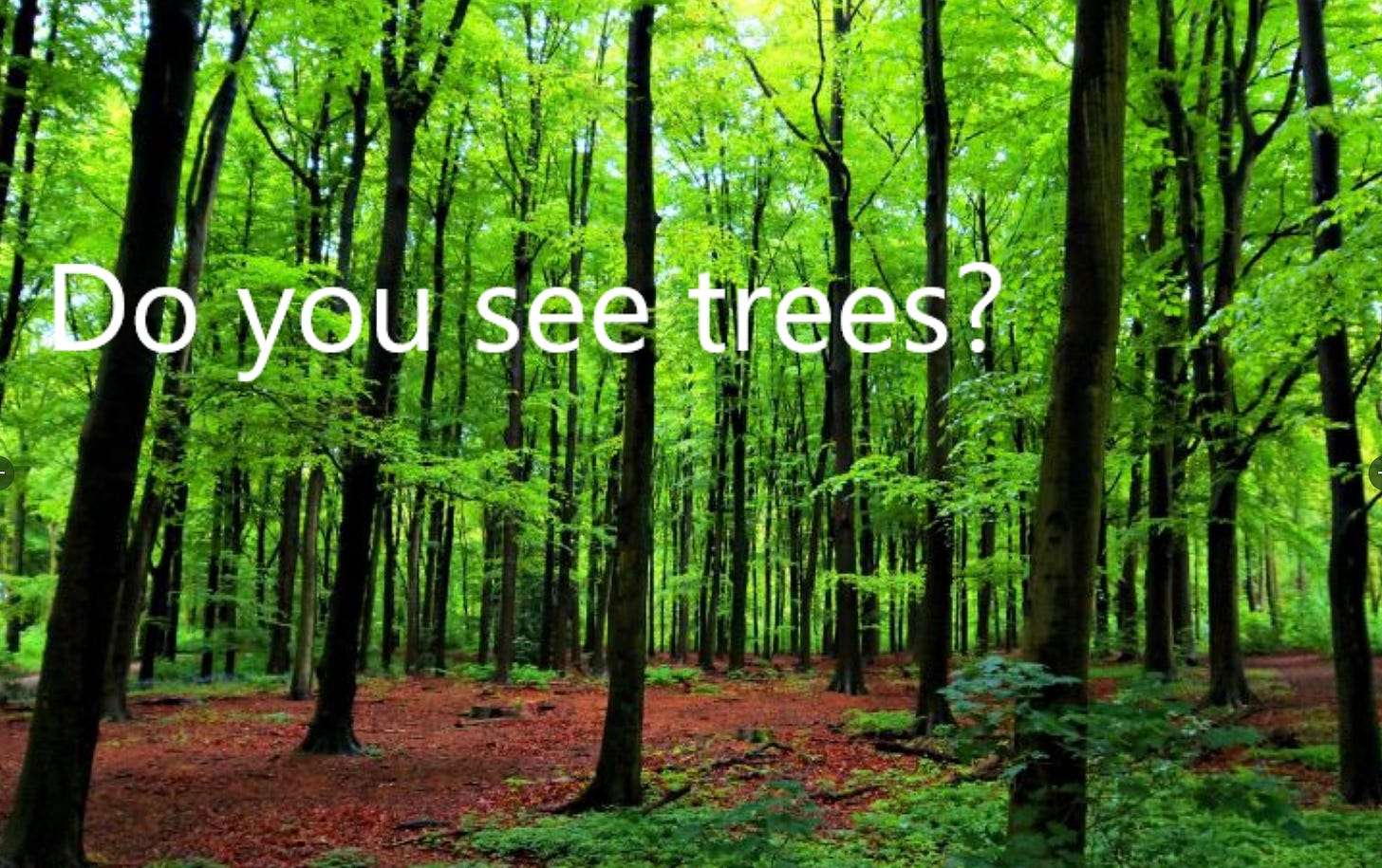 Simply put "maintenance spending" is the problem. It is a huge problem.
So, while the company talks about saving on G&A, they are showing you trees.
The forest is Capital Expenditures and Drilling locations.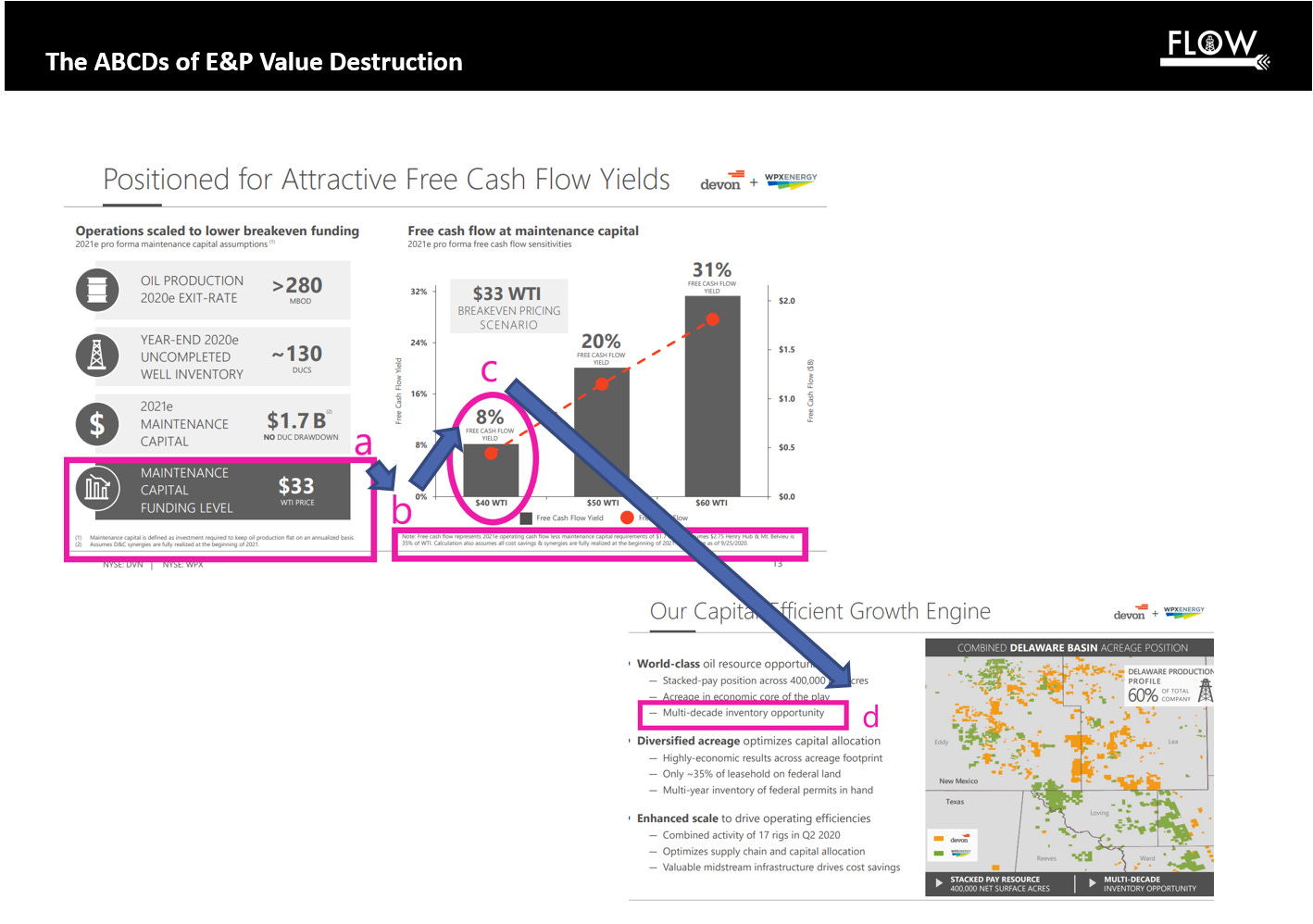 Why would you invest in an oil and gas company instead of buying the commodities? Because oil is volatile and you want upside! More on this later. Back to the ABCDs of Value destruction.
Here new Devon lays out a downside case at $33-$45 WTI (midpoint of the first and second scenario.)
A- At $33 WTI the company says they will spend $1.7bn to maintain production or realize a small dip rather than grow. This is a false choice, shrinking is also a possibility

B- $1.7bn of capital is a serious amount of money. We think the run rate based on Base Declines is greater, but you'll have to contact us for that information

C- 8% FCF yield is way too low. The company should not be spending the guided $1.7bn. It doesn't matter that some money comes back. It matters how much.

D- The cost of maintaining production is the use (disuse) of inventory - a key to the upside point we will get to later
With about $200mm incremental G&A savings as the focus in this transaction, the company is almost literally doing the opposite of the 80/20 rule.
Oil and Gas Companies are Options
Our roots at FLOW are in the securities market as investors, bankers and underwriters. We view success or failure by security price performance. If you think we aren't always friendly to industry, it's because of our simple criterion: "do you make investors money?" (Eg: Alta Mesa & the Plumbers and Pipefitter's pension)
These companies are in a commodity market. Commodity markets tend toward perfect competition, where Marginal Revenue = Marginal Cost. Ever hear the companies use the term Break-Even? It's a bad thing!
When Oil and Gas companies talk about Break-Even, they aren't including the cost of capital or overhead. So it's perfect competition.
Or is it?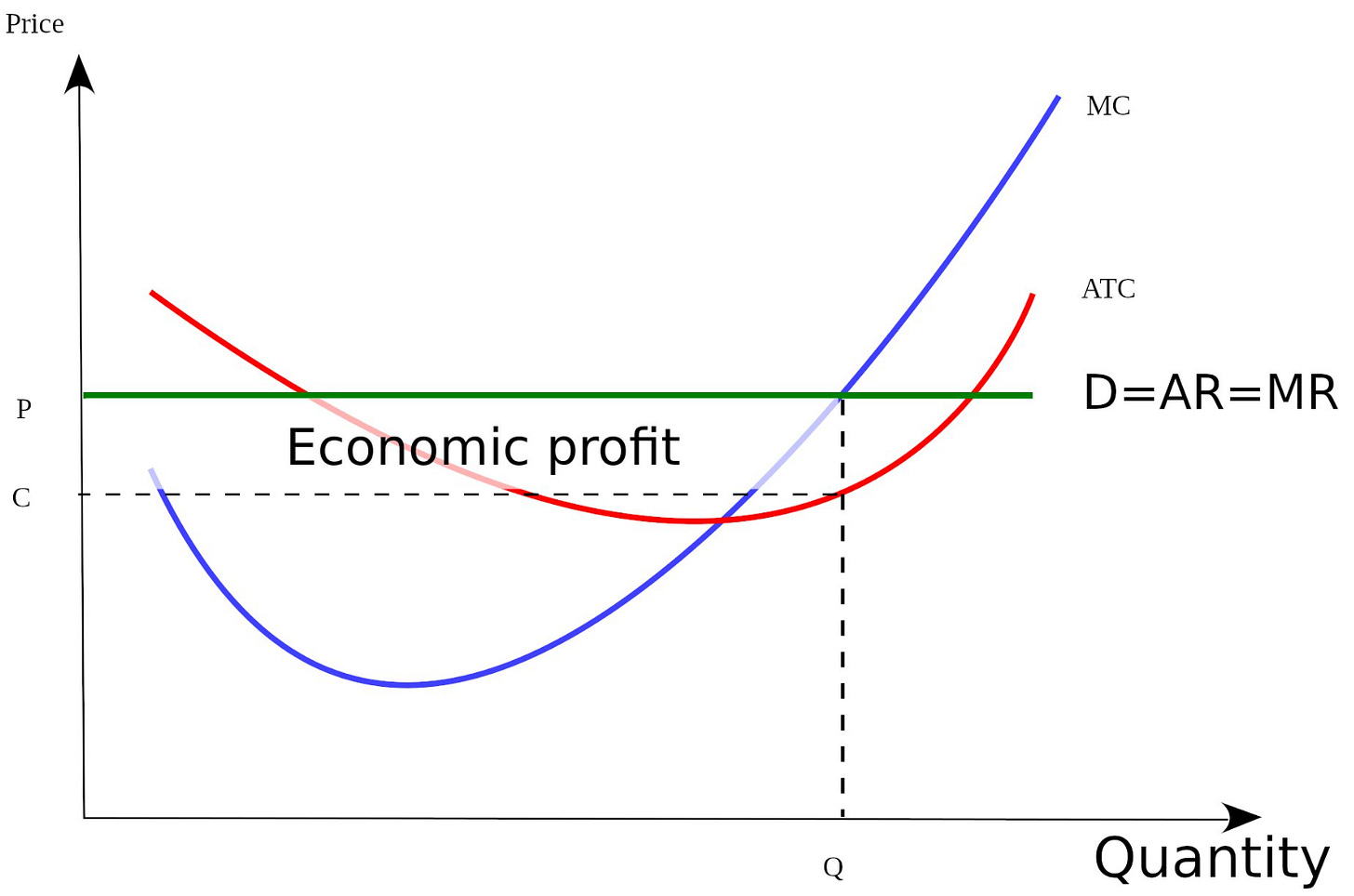 A drilling location is a sunk cost, but the companies have the option not to drill. Oil and Natural Gas are volatile commodities.
Are the companies options on the underlying commodity? They sure are.
Premium: stock price

Expiration: inventory

Intrinsic value: NAV

Underlying: commodity

Strike: corporate returns

Theta: Base Decline
Here's why we invest in Oil & Gas companies (from Wikipedia's Call Option page):
https://en.wikipedia.org/wiki/Call_option#/media/File:Long_Call.PNG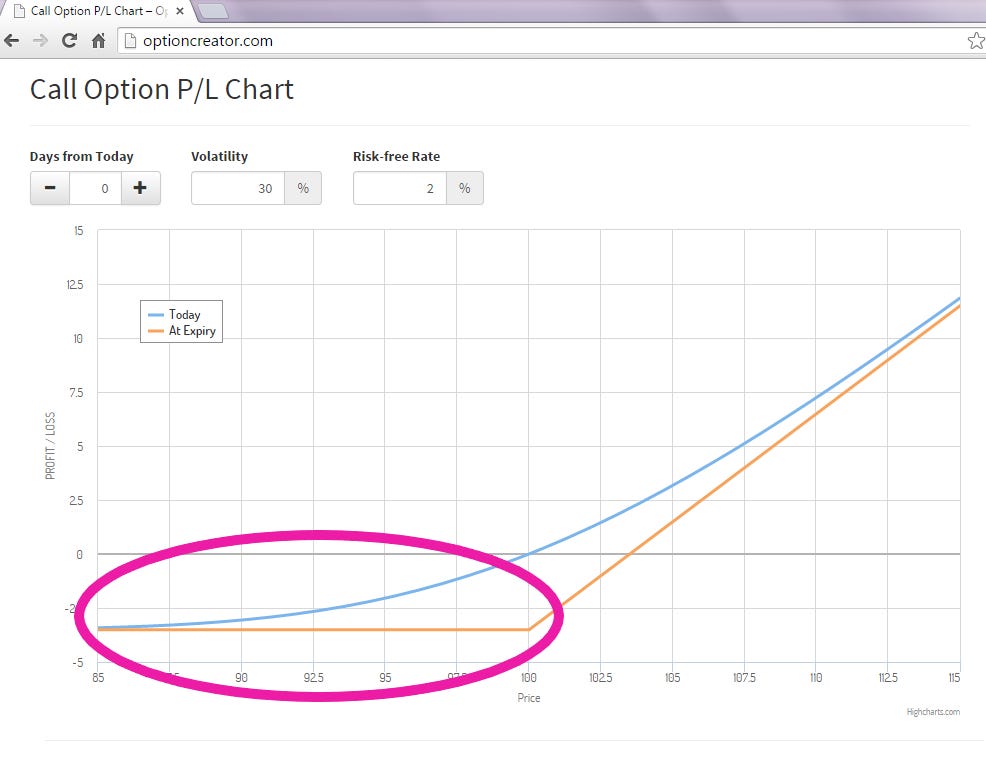 We want the price of our E&P stock to increase faster than the price of the commodity as the commodity price increases. The main job of investment professionals is to create convexity.
The fun part of options is convexity. Traders love to chat about gamma. But time decay is always the tradeoff. Having the runway to get your option in the money is the key.
E&P Management Teams have been Time Decay Machines
The reason a E&P company would increase in value at higher prices is because they have wells to drill that make money.
If the company has no NPV positive projects, they are either blowing down, or they are raising dilutive or priming capital. How many times have your E&P names come to the capital markets in a commodity rebound? 99% maybe?
"Maintenance capital" is the KILLER.
The company has the option not to drill, but industry practice is to maintain at least a zero growth level of production in bad markets. This means drilling wells whose returns are negative or do not drop to the bottom line. It's value destruction in plain sight.
What's worse, is those drilling locations are finite. The choice to destroy value today also takes away the outsized upside in the future. In the derivatives market we call this "negative gamma" - it's bad.
Destroy shareholder cash now

Burn up the company's runway

Reduce the future upside
Hedging at low prices always seems responsible, but further amplifies this shareholder problem.
So how does the market react? It pushes down the stock prices to get back some convexity. Every. Single. Time.
(Like when Tommy Nusz told me in a small group meeting at the Jefferies Conference that Oasis would not "burn the furniture." Oasis is in forbearance as we write this.)
We believe this behavior persists due to a lack of transparency (which we provide to our subscribers) and due to a desire to maintain credit metrics. As longtime hedge fund investors, we know the company has no fiduciary duty to creditors. Their duty is to equity; however we believe that flawed reserve-based lending dynamics have become the tail that wags the dog.
Equity and subordinated debt holders need to become more vocal and hold management accountable in real time.
Devon and WPX's Decay
Devon and WPX have quantifiable Base Declines and inventory counts.
At $33 oil, FLOW models Devon's best group of wells at an NPV of $333,000. It makes no sense to drill these until they benefit shareholders.
FLOW has modeled these scenarios in detail, and we don't agree with guidance. If you would like to stop guessing and understand:
Base Declines

Well Productivity

Remaining Locations
we can equip you with the information you need.
You would never guess what the implied vol of an option is. It's time to add precision to your fundamental Oil & Gas investing.
Contact us - we've been batting 1000 for 2 years. We can help you!
www.flowoilwell.com for our contact information

But even if we agreed with guidance…
Why should the company spend $1.7bn at $33-$45 oil?
If you want to really tighten up your analysis, contact us. We run large scale, repeatable engineering and geospatial process on all the companys' assets using external data. You can know almost as much as CEO without a wall-cross!
DISCLAIMER:
THE INFORMATION SERVICES ARE NOT INTENDED TO REPLACE THE PROFESSIONAL SKILLS OR JUDGMENT OF RECIPIENT.  THE INFORMATION SERVICES AND DATA ARE NOT INTENDED TO BE A SOURCE OF ADVICE OR ANALYSIS WITH RESPECT TO THE MATERIAL PRESENTED, AND DO NOT CONSTITUTE LEGAL, TAX OR INVESTMENT ADVICE.  RECIPIENT ACKNOWLEDGES VENDOR IS NOT AN INVESTMENT ADVISER AND THE INFORMATION SERVICES AND DATA DO NOT CONSTITUTE A RECOMMENDATION TO PURCHASE OR SELL ANY SECURITY.  RECIPIENT HEREBY AGREES ITS USE OF THE INFORMATION SERVICES, DATA, AND WEBSITE IS AT RECIPIENT'S SOLE RISK AND RECIPIENT IS RESPONSIBLE SOLELY FOR ANY DAMAGE OR LOSS
https://www.flowoildata.com/term-of-use/