The Cabot Oil & Gas Punchline
Identify the "turning point"
I've been informed people just want the punchline, so here goes…
The Opener
Cabot has been the model E&P for the past several years, so we must worry about the effects of breathing rarefied air for too long. 
Twitter has a running debate about Cabot's depth of inventory. However if you've traded the markets, what really matter is the "turning point" in asset performance.  We recently identified a similar turning point in WPX's Stateline performance for our users and predicted the Felix acquisition. 
The "turning point" is what management wants to transact in front of. A smart investor should get in front of management.
The Punchline
Cabot seems to have hit the turning point in their asset performance.  FLOW can display this in 3-4 visualizations of our calculated data. 
This analysis should take you, the user, minutes – not days or never.  As investors, this approach takes our abilities to a much higher level. Give us 2.5 minutes… Then image what you could do in 20 minutes with our tools.
…Below, we notice the average well performance slipping noticeably over the last few quarters.  Cabot has a history of excellent performance, so investors need to be vigilant that the company continues to live up to its "darling" status.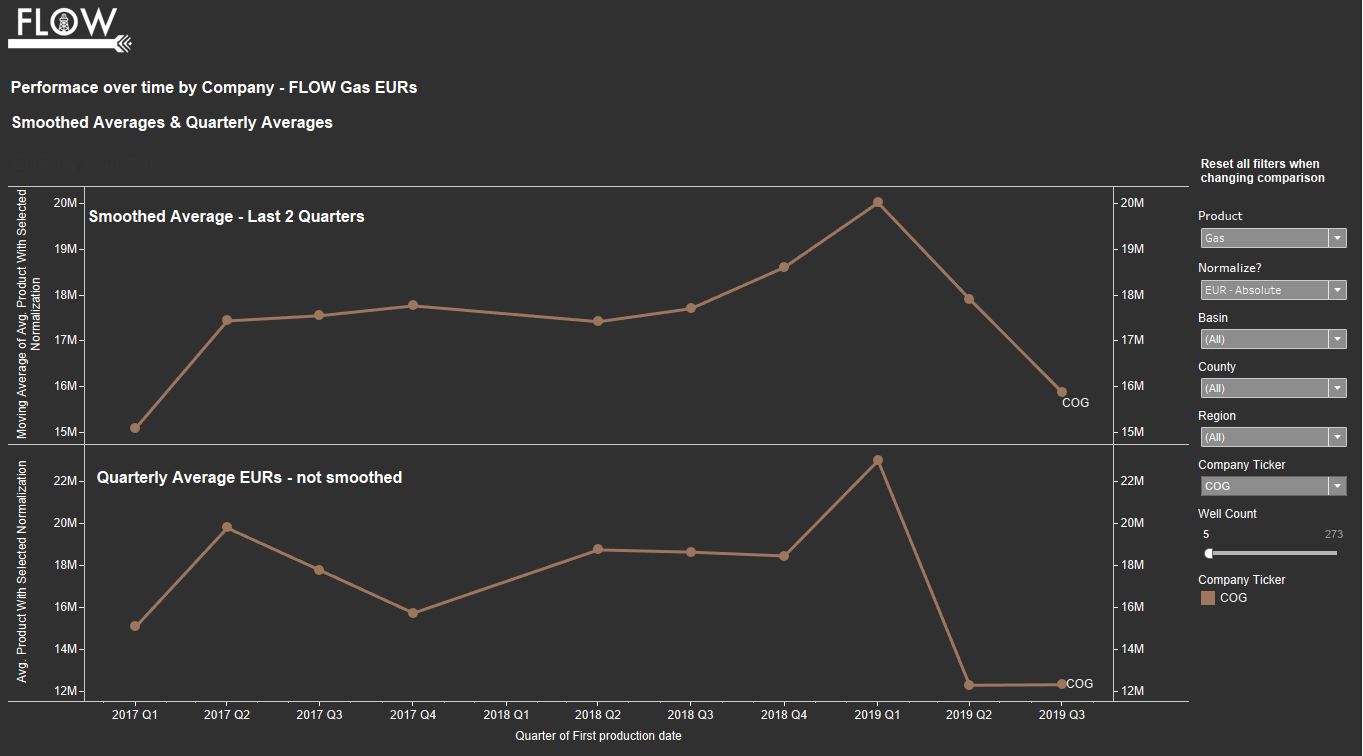 The Joke
An average only tells us how the middle is doing.  FLOW provides the tools to understand how ALL the wells are doing.
What's Priced In?
For context, we display how dominant Cabot has been in Appalachia. Below is a probability distribution chart of all of FLOW's gas EUR fits for Cabot from 2016 through 2018.  We fit them all, so we can see them all.
Critically, this is EUR, not just Initial Production; IP is the silver-tongued liar when it comes to choked-back gas wells. We have developed proprietary forecasting methods to get to EUR.
Cabot is in orange and the basin wide population is in purple.  When an operator's distribution is to the right of the basin, this is GOOD!  Production is on the X-axis, and we want to see MORE gas or oil as you compare across the distribution!

This chart shows dominance:
·         Cabot's best wells (90% percentile) beat the basin's best wells
·         Cabot's median wells (50% percentile) beat the basin's median wells (the basin's median wells are not particularly good)
·         Cabot's worst wells beat the basin's worst wells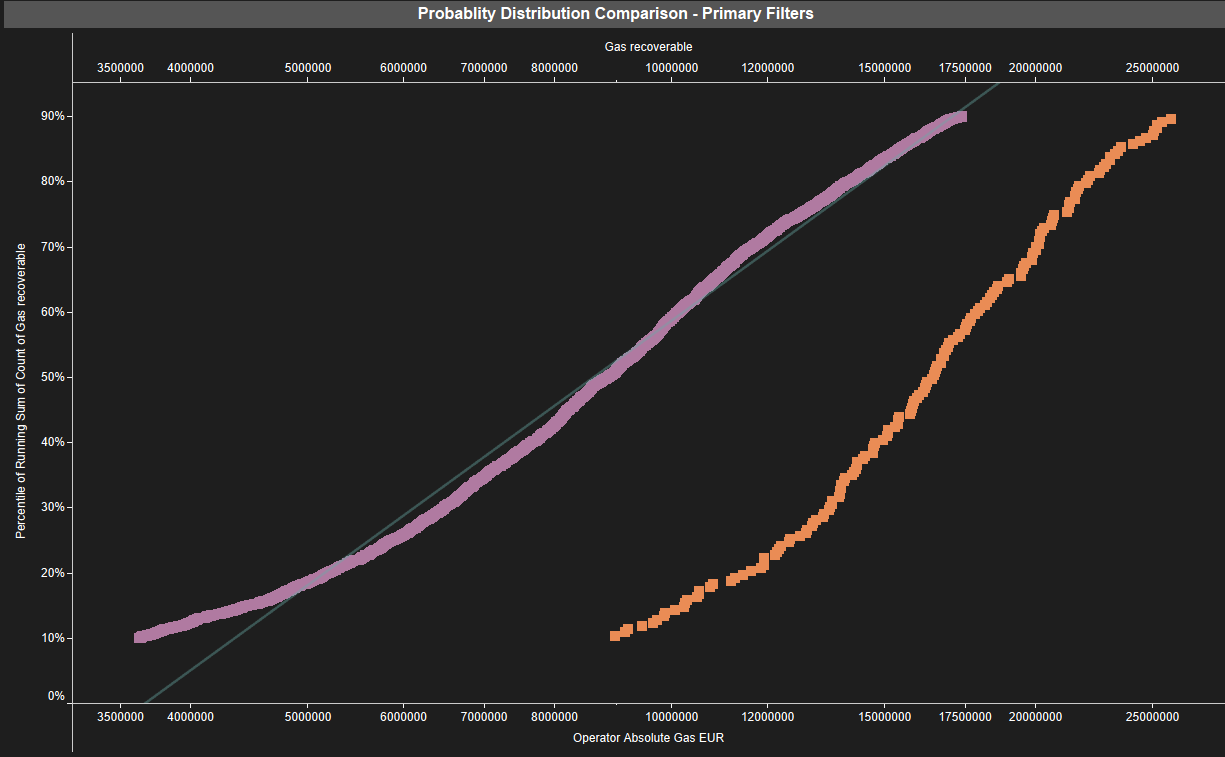 Side note:
In Appalachia, our FLOW data shows the best operators outperform with their bad wells.  This is counter to the data investors usually see highlighting the best wells.  Analyzing the middle-of-road is boring, and not really work for humans.  Since this isn't today's punchline, nor the joke, please contact us about this hugely important point.
2019 shows a fundamental shift
There are a few things to discuss in greater detail about this chart, such as built in biases and "stuff you shouldn't trade on", but we will keep it simple for now.
Cabot is no longer dominating.
When we look at the behavior of the vintages over time, we see that Cabot, has for the first time, brought online a substantial group of low-performing wells. CHK is juxtaposed as a comparable.

Going back to the first line chart – we showed a trend.  But that was an average, and by now we know that shale wells are not really all the same.
Was Cabot in a slump?
Or was Cabot losing an edge?
Which would you rather trade: "inventory depth" or "turning point"?
At FLOW, our use of probability distributions is like taking your analysis to Moneyball.  We hinted at the beginning that Appalachia performance is defined by the unexciting well.  We would love to tell you more about how you can find the overweight, under-priced, highly productive players for your team!
Also, there's more to the Cabot story and as always this is not an investment recommendation.  We wanted to illustrate a tool, and we hope that your 2.5 minutes reading this note would have at taken 1000x the time to produce on your own.