Reserve Audits get interrogated by Bloomberg at the Wrong Time
Revisiting a rare chance to put the machines up against a reserve auditor
The first time our company FLOW received major media attention, it was for our right-way call on Alta Mesa market value by the Wall Street Journal. If you've followed us, I apologize for beating the dead horse, but there is an important issue to revisit as we enter the bankruptcy cycle - the reserve audit.
Do you have a baseline?

Who paid for the baseline?
The reserve audit should not be your baseline!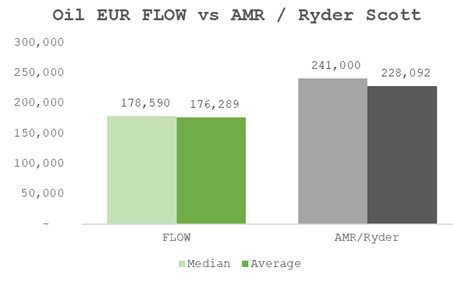 This will become relevant to CHK in later posts! Please subscribe and read on!
On June 23, 2020 Rachel Adams-Heard courageously took on the elephant in room: inflated SEC Reserves. In doing so, Ms. Adams-Heard calls into questions the inaccuracies with which thousands of industry participants have become comfortable. We see these comfortable inaccuracies as being similar to late-90s sell-side research or the mid-2000s CDO underwriting. Participants slowly change their view of "truth" to reflect "incentive." If you landed on Earth from Mars with the superior intellect required to make the trip, you'd have a few objective questions about these reserve "audits"…
At FLOW, we don't hate shale; we love shale. We hate misguided, overblown valuations. Everyone suffers: Investors, employees, commodity prices. We want the right projects to get funded at the right prices.
https://www.bloomberg.com/news/articles/2020-06-23/shale-oil-stocks-investors-question-industry-s-performance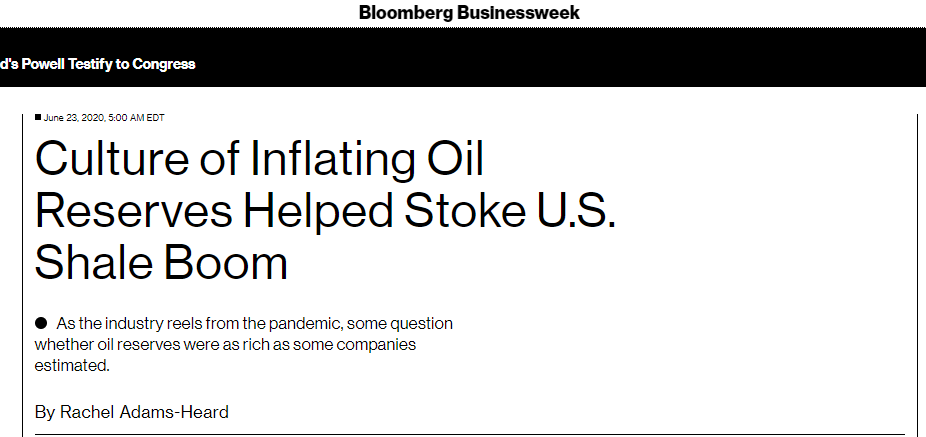 Rule 1: Ignore the Reserve Report
As hedge fund investors, a few inaccurate, volatile numbers on the back of a 10-K were never useful. Everyone in the investment community is taught to challenge the assumptions. These reserve audits have little detail; are updated only once a year; are presented in a static form with no ability to adjust the inputs. The source of the audit does not defend their work or audit their audit. One firm doesn't even take the care to set their "wrap text" formats correctly. Ignore it.
Rule 2: Do your own work
We compile our own forecasts of company reserves. The value of the collateral base is far to important not to do this work. Our work on Alta Mesa involved forecasting the reserves well-by-well.
Our resulting "type curve" - a model of the "typical well" - was much lower than the company's. This was no shock to us, because we could eyeball the wells and see the trend quite easily. I'd be shocked if anyone who has looked at a few thousand wells would come to a different conclusion.

Here is our type curve in 2018, prior to more significant degradation.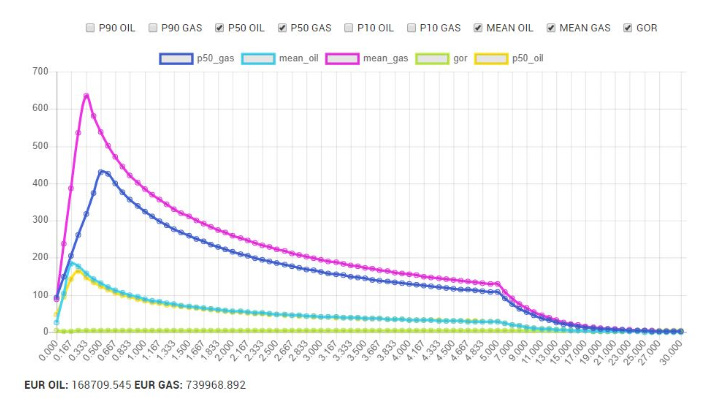 We arrived at an estimated 167K barrels of oil per well. Unsurprising the company was pointing to larger amounts of oil. Look at this chart from 2017, where the company forecasts 247k barrels with rising expected amounts.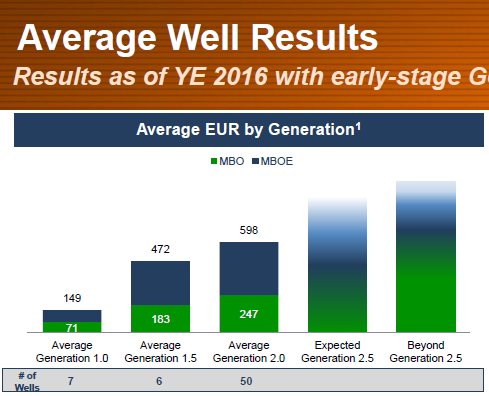 Our notes indicate that Alta Mesa eventually guided to 275K barrels and 12,000 drilling locations, but things were moving fast and soon crashed. A few people started to notice the data didn't support the optimistic well forecast. FLOW began talking directly to investors about the issue (most proved they liked management and hated money). But something got back to the company - because they FREAKED OUT like no other E&P company before… They published a response!
Enter Ryder Scott
I'm sure Ryder had no interest in getting dragged into this: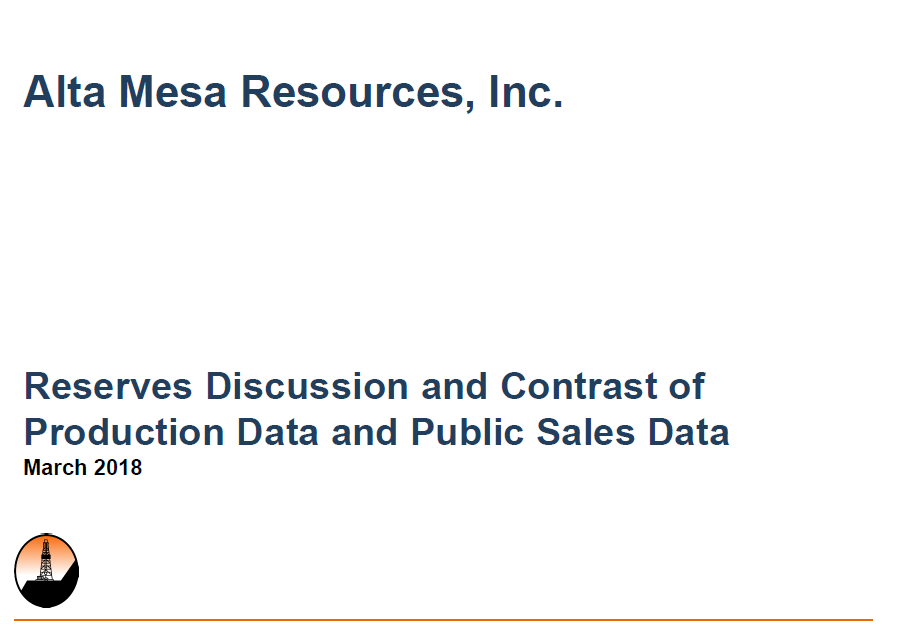 Alta Mesa was so concerned that people were questioning their forecasts on the basis of public data that they posted both internal well-by-well forecasts and SEC Audited Reserves. The purpose was to "provide confidence in reserve assessments." and a 250k barrel average recovery.

I'll skip their crazy thesis, because we know the outcome, and get to the good part.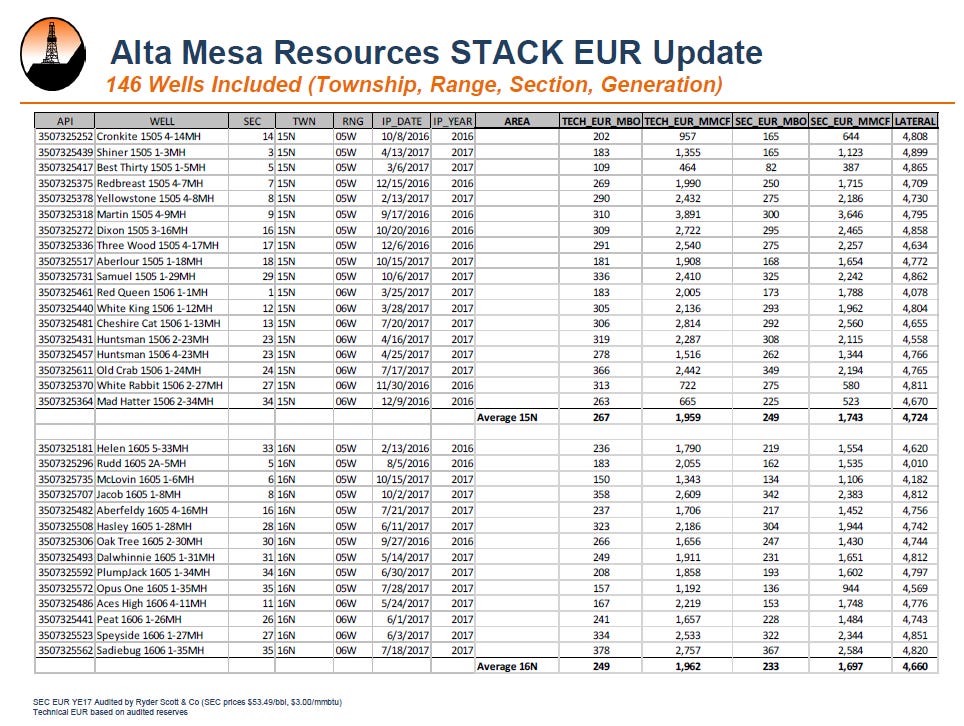 Alta Mesa provided a list, complete with API numbers of each well's forecast, with Ryder Scott's name attached (see the footnote on the slide.) For us, this was like cracking the Enigma code!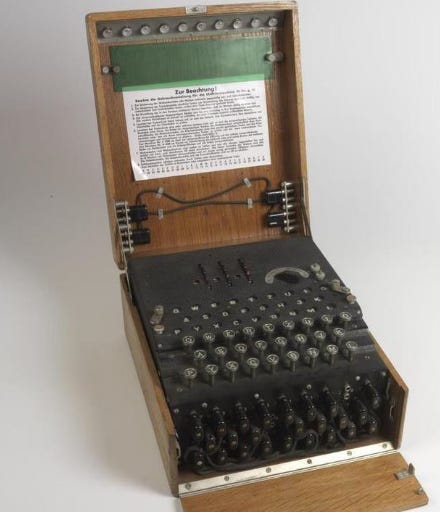 Now we could compare our algorithmic well fits to the work of an esteemed reserve auditor. Here's a chart of our deltas on a well-by-well basis.

So 90% of the time Ryder & Alta Mesa were higher than FLOW. That is a convincing difference in stance! Maybe FLOW was the knucklehead.
Turns out FLOW was right…
Alta Mesa Changes their "Perspective"
Recall FLOW was predicting 168K barrels per well a year prior (and at this point predicting a much lower expectation).
Then February of 2019 the number becomes 175K! with a lot of qualifiers!
Let's take 3000 possible drilling locations x 75k bbl less oil = 225 million barrels of missing oil!
That is a comical 112 VLCC tankers that never set sail.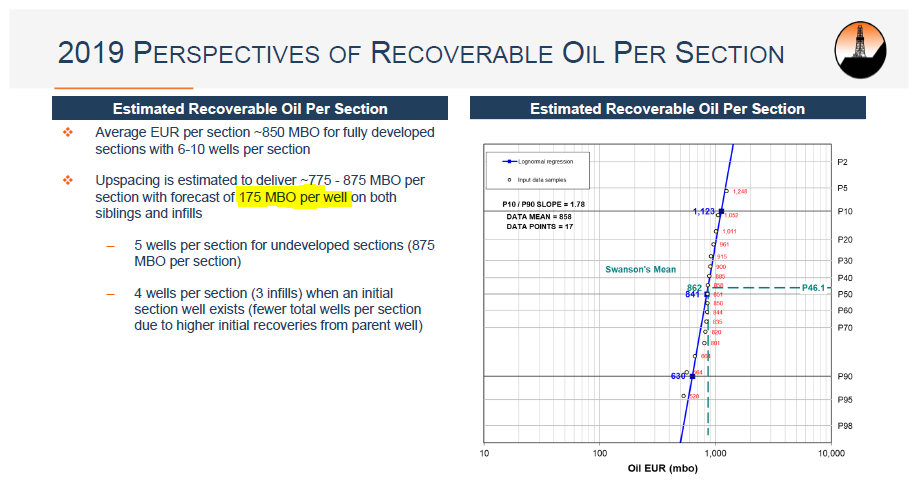 In 11 months, an audited forecast crumbled to pieces. The difference was really important. It was the difference between a $3bn public company and becoming a bankrupt, failed 363 sale that no one wanted.
How did FLOW do it?
How did we not do it? This was easy.
However, I was forwarded an email from the head of prominent A&D shop calling us lucky and saying we couldn't do it again. The A&D shop had been wrong, but the difference was they were never skin-in-the-game investors. More deals, more fees. Bankruptcy helps.
We received a call from the SEC! I explained that we could eyeball the data and see the reserves were wrong. However, since we don't use the industry-accepted model, even if we use a better one, there was no smoking gun. They called the conversation "eye-opening" though. Again we didn't really care either way - no one should give a flip about a reserve audit.
Why is everyone getting it wrong?
Aside from misaligned incentives, we see people using legacy software with painful workflows that beg for corner-cutting. Just this week we saw one A&D advisor post a slide deck where they state they build type curves that exclude low-quality wells. Part of their problem could be expressing these low quality wells in terms of more complex sets of coefficients. The old 2-Stage Arps is no good when the well isn't a 2-Stage Arps. Statistically, we know that means IP and b-factors get biased too high.
Skip the jargon, see the chart!
Industry silos are another problem. In Oil & Gas people defend their turf. (If I hear one more engineer call me a "finance bro", it's gonna get ugly!) Over the next few years, cross-functional data will create a source of truth across silos. Anyone who gets mad at people driving in their lane is in for a rude awakening - CEOs included.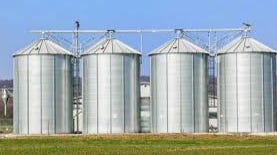 For investors, price is the source of truth. As I write this, CHK stock is down 70% on the day and 99.6% in the last 5 years. The company even implied optimism with a recent reverse split.
We fully expect the same people to advise on CHK's assets that created the mess.
From here, it is investors that should drive the bus on due diligence. Go ahead and hire an agent of the company to tell you what the company is worth :), but find yourself a benchmark.
We'll be writing about our approach to Chesapeake's valuation next. Don't miss it! Some people pay millions for the kind of work we are about to post online!